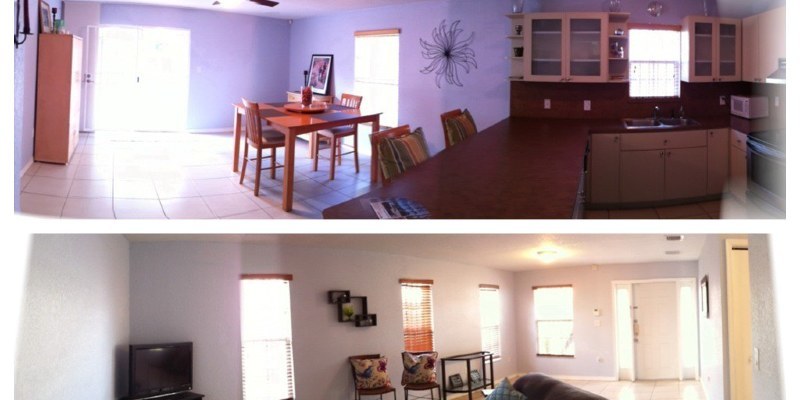 Vintage Flair for a Lovingly Maintained Midcentury Gem
Vintage Flair for a Lovingly Maintained Midcentury Gem
"We were meant to be together," says homeowner Jessica Craig, describing her connection with the midcentury home she purchased in October 2012. "I knew I needed something midcentury with background, and as soon as I walked into the door, I knew I was home."
Architects Lyle Rowley and Jack Wilson of Ju-Nel Homes constructed the home in 1967, and the layout has enjoyed decades of remaining power. "Their houses have none of the cool aloofness that can sometimes plague midcentury modern houses," Craig says. And fortunately, the previous homeowners maintained that the home beautifully. A note left by former employer Charles Wilson reads: "I lived in this home from 1967–1999. I adored it. Please love it, too."
Craig, who functions in the interior design industry, is keeping the tradition alive by elevating the space with a classy, welcoming vibe achieved through clever furnishings and midcentury flair.
at a Glance
Who lives here: Jessica Craig, her boyfriend, Juan Pinzon, along with their dog, June Bug
Size: 1,800 square feet; 3 bedrooms, 2 baths
Location: Lake Highlands neighborhood of Dallas
Sarah Greenman
Many signature Ju-Nel features specify Craig's living space: vaulted ceilings, exposed beams, paned glass along with an open connection to the kitchen, the latter of which was a charm during its structure.
The mother of Juan Pinzon, Craig's boyfriend and housemate, owns a Ligne Roset store in Panama and had ordered the wrong color Togo couch one day. She gave it to the bunch, and it's now Craig's favorite piece.
The coffee table is from Pace, a prominent designer of metal, marble and glass pieces throughout the 1980s.
Paint: Balboa Mist, Benjamin Moore
Sarah Greenman
The Ju-Nel architects were very interested in producing cozy family spaces, and so they always placed a hearth at the middle of their living room designs.
Craig refinished a classic dresser to use as a TV console. "Sometimes people give me strange looks when they visit bedroom furniture in the living area, but I think that it looks excellent!" She says.
Lamps, wood displays: Round Top Antique Fair; background: Yesterday's News in Chronicle, Innovations; hearth paint: Wildwood Crest, Benjamin Moore
Sarah Greenman
Craig discovered that this gold bench at a consignment store in Dallas' design district on Riverfront Boulevard. "It was pretty tarnished, which is why they had been having difficulty selling it," she says. "But I loved the patina and left it."
Artwork: Brant Williams
Sarah Greenman
Craig likes to entertain and host friends at the home. The dining area's dark, moody wall color creates a romantic atmosphere and supplies the white furniture a lot of pop up. A huge picture window faces the front yard. Kelly Wearstler textiles adorn the window and chair cushions.
Wall paint: Bear Creek, Benjamin Moore; dining chairs: West Elm; table: Crate & Barrel
Sarah Greenman
The area recieves light from the west- and west-facing windows, rare for a dining space. Craig plays up the natural light with gold and brass details around the space. A bar cart holds spirits and classic barware.
Sarah Greenman
Craig has a knack for locating eye-catching classic furniture and decor. "It is not a special gift," she says. "It is only patience. I will see things in a pile of crap that others don't see because they're moving too fast."
A little bamboo dining table in the dining area carries a pair of midcentury lamps, classic barware and an orchid.
Artwork: Brant Williams; orchid structure: Grange Hall Urban Flower
Sarah Greenman
Craig discovered this elaborate entryway couch table at a furniture consignment store.
Wallpaper: Sumatra in Shell, Innovations; artwork: Brant Williams
Sarah Greenman
Vaulted ceilings, butcher block countertops and spacious shelves that showcase the homeowner's bright green Fiestaware help produce a sense of space and simplicity in the otherwise narrow kitchen. "I love cooking, and this kitchen is set up really well," Craig says.
Fiestaware: Macy's; cabinet paint : Cos Cob Stonewall, Benjamin Moore
Sarah Greenman
Craig likes to groom the kitchen pub with curios and classic pieces. A tiered tray holds photos, potted moss and correspondence supplies. The classic Hermes 3000 typewriter, very similar to the one Jack Kerouac utilized, was a gift from Craig's sister and brother-in-law.
Sarah Greenman
A sharp white parson's shelves and desk keep the office clean and organized, even though a seat upholstered in classic fabric adds a little retro design.
Paint: Indian River, Benjamin Moore; desk: parson's, West Elm (damage stack); shelves: Expedit, Ikea; lamp: Again & Again; classic chair upholstery: Fabric Yard
Sarah Greenman
Craig purchased this table for $20 at a secondhand store. The seat belonged to her grandmother. "There is something about a classic piece that exudes personality," she says. "The trick to finding good stuff would be not to be judgmental. I tend to feel that a piece rather than see it."
Wall paint: Indian River, Benjamin Moore
Sarah Greenman
A Jack and Jill bathroom divides the office and guest room. Craig want to replace the vanity with something more industrial.
Wallpaper: Manila in Cypress, Innovations
Sarah Greenman
Sarah Greenman
A classic mirror artwork piece pops over the guest room mattress, giving the space a '70s vibe. Craig bought the mattress at a biannual pop-up shop hosted by Dwell With Dignity, a nonprofit group of interior designers and volunteers in Dallas who raise money to help create inspirational and soothing homes for families fighting poverty.
Wall paint: Indian River, Benjamin Moore; pendant: Floral, David Trubridge
Sarah Greenman
The L-shaped principal bedroom is a soft, relaxing area full of plush textures, neutral colors and individual touches. "I always tell my clients to stay away from complete bedding collections," the designer says. "It is more fun to buy single pieces from different places to create your own look."
Wall paint: Rockport Gray, Benjamin Moore; euro shams: DwellStudio; fur pillow: Anthropologie; coverlet: Bed, Bath & Beyond; headboard, side table: Weirs
Sarah Greenman
Craig infused a nook in the bedroom with a little bit of old Hollywood glamour by way of a zebra rug, a classic love chair, low light and soft curtains.
Sliding glass doors nearby open to a patio.
Wall paint: Rockport Gray, Benjamin Moore; couch: Again & Again; upholstery: Fabric Yard; centre pillow: Missioni; curtains: Restoration Hardware
Sarah Greenman
Craig's mother made this clock by framing a knitted square where she attached classic buttons from her grandma. "All the women in my family are very crafty, and this clock was such a fun project," she says.
Sarah Greenman
The designer refinished this classic vanity and cleaned up its first hardware. "I wanted to paint the vanity in a shade similar to the wall, so it didn't stand out as separate from the space," she says.
Vanity paint: Gargoyle, Benjamin Moore
Sarah Greenman
The main bedroom opens to the backyard. The first home plans show that all 3 bedrooms once had sliding doors that opened to this outdoor area. "I'd like to renew the doors someday," Craig says.
Sarah Greenman
A live oak tree in front yard offers shade for 2 rock chairs, where the few like people watching.
Trim paint: Kendall Charcoal, Benjamin Moore; rock chairs: Round Top Antique Fair
Sarah Greenman
"I want to fill my home with things that make me feel good," says Craig, seen here with June Bug. "I am motivated by texture, people, clothing and artwork."
See more photos of this home