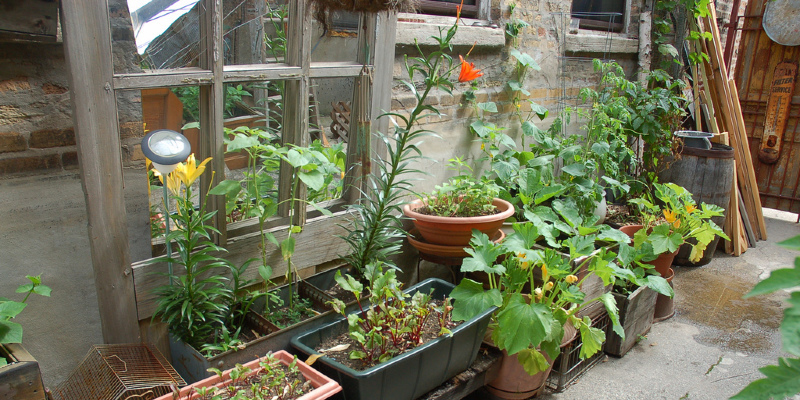 New Colors for Your Fall Planters
New Colors for Your Fall Planters
I love creating fall container gardens and often stick to standard autumn colors. However, I had an epiphany in a visit to my local nursery: Fall containers may look just as seasonal and stunning without the traditional red, orange, yellow and brown. Simply using annuals and perennials that naturally shine this time of year will let you think outside the autumn color box.
Take a look at these atypical arrangements I came up with after my visit to the nursery. Could one of them work for your entrance, patio or deck?
Kim Gamel
I love the variegated lime green of this pleomele (Dracaena reflexa 'Variegata', USDA zones 11 to 12) from the back. The gourd on the proper mimics the colour variant. Along with the pansies (Viola, zones 7 to 11), autumn container stalwarts are a deep burgundy rather than the more common purple or yellowish. I love the ornamental kale (Brassica oleracea, zones 2 to 11) in this container, too.
The muted creamy green of this skillet adds to the overall colour arrangement.
Kim Gamel
This ghostly container could help greet trick-or-treaters on the big night. Architectural cardoon (Cynara cardunculus, zones 7 to 9), in back, acts as the thriller within this grouping. Other crops include coral bells (Heuchera americana, zones 4 to 9), silver drops Dichondra (Dichondra argentea 'Silver Falls', zones 10 to 12), dusty miller (Senecio cineraria, zones 7 to 10) and purple ginseng (Brassica oleracea 'Redbor', zones 2 to 11).
Cardoon, a cousin of the artichoke, has edible stalks that taste delicious when blanched.
Get the formula for grouping plants in a pot
Kim Gamel
These typically indoor plants — Diffenbachia spp, golden pothos (Epipremnum arum, zones 10 to 12) and also a cyclamen (Cyclamen spp) — deliver a seasonal vibrancy for this collection. Utilize an arrangement like this to brighten a place of your house that doesn't get a good deal of natural lighting.
Tip: Most houseplants could be taken to some shady place outside before temperatures dip below freezing.
Kim Gamel
The nearly black, glistening leaves of purple fictitious eranthemum (Pseuderanthemum atropurpureum 'Black Varnish', zone 11) are a perfect contrast to the brown, flowing blades of this Carex (Carex spp). The bright orange mums and carmine-pink pansies and Cekisua (Cekisua spp) extract the stalks of this decorative cabbage.
Tip: Utilize a hedge apple (Maclura pomifera, zones 4 to 9), the nubby chartreuse orb on the lower left, for feel. It smells great, too!
Kim Gamel
Greenscape Gardens at St. Louis, Missouri, always has beautiful seasonal containers to inspire gardeners. Here's a massive fern surrounded by coral bells and spiderwort (Tradescantia spp).
Tip: Plant perennials — like the coral bells used here — at the ground when you're all set to replace the display for the winter.
Kim Gamel
The wispy brown Carex adds an edginess to the palette of pinks and purples provided by mums and kale here. Ornamental kale, a great alternative in autumn, will maintain its colour through several rounds of freezing temperatures.
Kim Gamel
I love the different tints within this all-green container garden, and the variety in texture retains the arrangement out of being dull. The plants include bright green forest grass (Hakonechloa macro 'Aureola', zones 5 to 9), autumn moor grass (Sesleria autumnalis, zones 5 to 8, in back), coneflower (Echinacea 'Green Jewel', zones 3 to 8) and also a variegated Carex in front.
Tip: To give this arrangement additional height, add natural or painted branches.
More: 8 Knockout Flowers for a Fall Container Garden